While I have previously written about my desire for seasonal beers to be available at all times, it is officially Stout Season and Fall beer season. This is the time of year when an abundance of stouts, pumpkin beers, and octoberfest style beers are hitting stores and tap rooms near you.
Generally Octoberfest/Oktoberfest and Pumpkin beers start hitting stores in August and September.
Oktoberfest
is a 16 day long festival that is held yearly in Germany. This is a rich tradition and has been happening over there since the early 1800's. The Oktoberfest style of beer has a rich malt profile with flavors usually in the caramel and toffee profiles. The color is usually a deep amber. These brews are fairly sweet and incredibly drinkable. Good examples of Oktoberfest styles include:
Ayinger Oktoberfest-Marzen
: Probably my favorite and most true to style.
Three Floyds Munsterfest:
Only available in September. Worth making the trip to Munster for this one.
Sam Adams Octoberfest
: This is a solid Octoberfest. Probably my favorite seasonal that Sam Adams makes. It's a good baseline american octoberfest.
Pumpkin beers are becoming increasingly popular. I have found that pumpkin beers can be quite varied from beer to beer. Typically you will find an array of pumpkin pie seasonings including nutmeg, clove, allspice, cinnamon, ginger, and pumpkin of course. Some brewers also seem to be able to harness an almost graham cracker flavor in their pumpkin brews. The variety of spices that can be used gives these brews a unique character. They can be hearty, sweet, and savory all in one great beer. Good examples of the style include:
Southern Tier Pumking
: My favorite of the pumpkin beers. This brew features nutmeg and that graham cracker character I referenced earlier. It's possesses a great pumpkin pie-like flavor. Unmatched in my opinion.
Schlafly Pumpkin
: This one has a gorgeous color and the clove spice really comes through heavily. Some people love this one. Wasn't for me, but might be for you.
Shipyard Pumpkinhead
: This one gets a bad reputation for some reason, but many people swear by it.
Dogfish Head Punkin
: Lots of pumpkin and brown sugar. Leave it Dogfish Head to create an awesome version.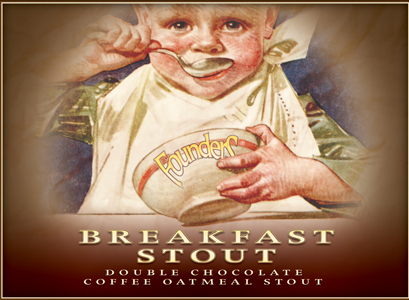 Stout season. It's a glorious beer time of year. Without a doubt. One of my favorite stouts,
Founders Breakfast Stout
, began it's distribution a few weeks ago. This beer has massive coffee and chocolate aromas and flavors. It's a little lighter on the palate than you would expect from a stout, but I find it to generally be a nearly perfect breakfast beer. If you live anywhere in the Founders distribution area, Breakfast Stout is fairly easy to find and the release continues for several months. Grab some if you haven't tried it, even if you aren't a fan of stouts or are just a little too afraid to try them. This one can change your mind and open your eyes to the beauty of stouts.
Another seasonal stout that is making its way to stores is
Goose Island Bourbon County Stout
. This enormous beer boasts strong flavors of molasses, chocolate, caramel, oak, and bourbon. One of the best barrel aged beers around and it is not for the beginning stout drinker....unless you love bourbon, then go for it. This beer warms as it goes down and will knock your socks off if you aren't careful with it. Definitely a sipping beer. I think the first time I had this beer it took me about 45 minutes to finish it. Take your time. The flavor profile only gets better as the beer warms up. This one can be tricky to find. Make sure you go to your local shop and ask to be put on a list for this one. It does get distributed to stores, but rarely is ever seen on a shelf. Typically beer stores will hold it "in the back" for regular customers to buy. Even more difficult to find is the
Coffee version
made with Intelligentsia Coffee.
So get on board with the arrival of fall beers and stouts. Give something new a try. Visit your local craft brewery and discover what's brewing in your very own backyard! What are some of your favorite stouts and fall beers?